World Cup 2018 is soon here!

As always there will be a nice selection of cards in the Panini Adrenalyn XL Nordic Edition set.
The basic products are packs and boxes. Each pack has 6 cards, and each box has 50 packs. Below you can find the possible cards and average ratios for special cards. You'll find a PDF with a checklist for the set via this link.
Possible cards, and average ratios for special cards:
360 Team Mates
Special cards
40 Fans' Favourite, 1 in 3 Packets
Group 1 Special Cards, 1 in 5 Packets
9 Goal Stopper
5 Power 4
18 Rising Star
Group 2 Special Cards, 1 in 7 Packets
18 Game Changers
9 Double Trouble
3 Icons
Group 3 Special Cards, 1 in 48 Packets
5 Top Masters
1 Invincible
Exclusive Nordic Edition 1 in 6 Packets
8 Scandinavian Stars
1 Nordic Captains
9 FIFA World Cup Stars
Some examples of cards from the set can be found here. We offer a wide range of single cards from the set, you can find them here: Adrenalyn World Cup 2018 Nordic Edition - Singles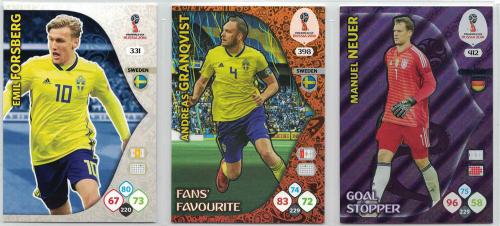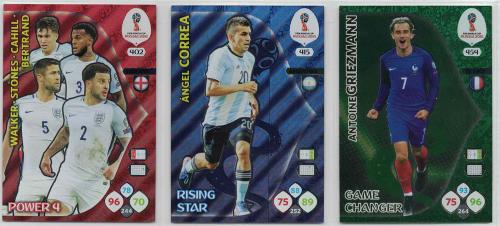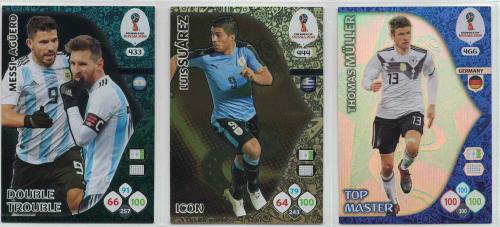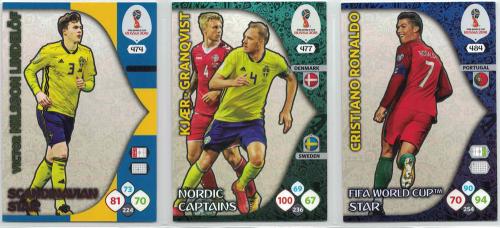 These are the products we offer at this point. More might be added later on.
We offer shipping worldwide. We have an automatic shipping calculator in check-out, so you will be able to see the shipping cost before you decide if want to make the purchase. If you are located outside of the EU, please register with the page to see correct prices. Since you are located outside of the EU you will not be paying VAT (25%), this happens automatically when you register a shipping address outside of the EU.

For this product there is a Limited Edition Bonus Packs.

3 Bonus packs are included with each 50-pack box purchased.
Each bonus packs contains: 1 Limited Edition + 1 Fans' Favourite + 1 Base card.
We know of 16 diferent Limited cards availible through these bonus packs.
Possible Limited Edition cards in bonus packs (that we know of):
Sadio Mané
Gabriel Jesus
Thomas Müller
Romelu Lukaku
Luka Modric
Edison Cavani
Robert Lewandowski
Timo Werner
Mauro Icardi
Radamel Falcao
Pione Sisto
Dries Mertens
Alvaro Morata
Ola Toivonen
John Stones
Gerard Pique
This is the design of the bonus pack.